About
The Panodata Map Panel is a map panel for Grafana with improved convenience, robustness, features and under active development.
It builds upon the original Grafana Worldmap Panel, integrates different contributions coming from the community and continues adding dearly requested features while focusing on robustness and stability.
Features
Setup
The most recent version of the Panodata Map Panel can be installed side-by-side with the canonical Grafana Worldmap Panel like
# Install most recent version side by side
grafana-cli \
  --pluginUrl https://github.com/panodata/panodata-map-panel/releases/download/0.16.0/panodata-map-panel-0.16.0.zip \
  plugins install panodata-map-panel

# Restart Grafana to activate plugin
systemctl restart grafana-server

Note
Starting with Grafana 7.x, it is mandatory to have plugins signed when running in production mode. However, there is an option to allow loading unsigned plugins in /etc/grafana/grafana.ini within the [plugins] section called
allow_loading_unsigned_plugins = my-plugin-name

which you might be able to use in order to opt-out from this when installing panodata-map-panel.
Development
History
The Panodata Map Panel has been forked from the Grafana Worldmap Panel.
We recently had the chance to dedicate some time to the Grafana Worldmap Panel. After adding some options here and there, some of them coming from the community already [1-4] (specifically we aimed at the drill-down feature here, thanks!), the code has been refactored a bit and finally the user interface has been cleaned up and restructured.
Testimonials
Thanks for putting all this work into the panel. […] great to see the community chipping in. All those features look like good additions. (@daniellee)
We massively appreciate your work and improvements on this plugin. They're nothing short of transformational in terms of its usefulness. (@svet-b)
This fork has been getting more constant attention for the last year while the core plugin has not moved. (@ryantxu)
Examples
luftdaten.info map for Germany
We are using this to display synthesized address information on a map populated with data coming from luftdatenpumpe through InfluxDB and PostGIS data sources, see also LDI data plane v2.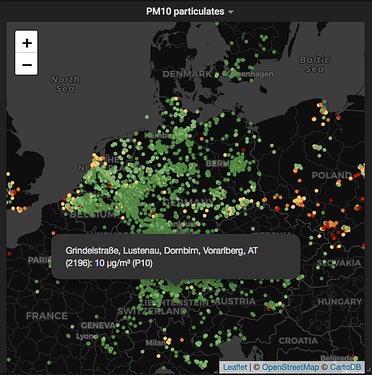 – Source:
luftdaten.info Map Europe
Editor screens
Location source, data format and mapping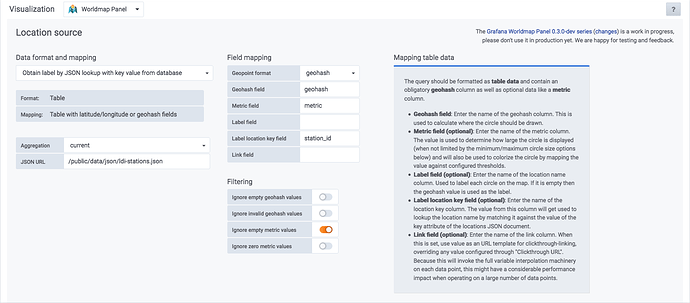 Visual options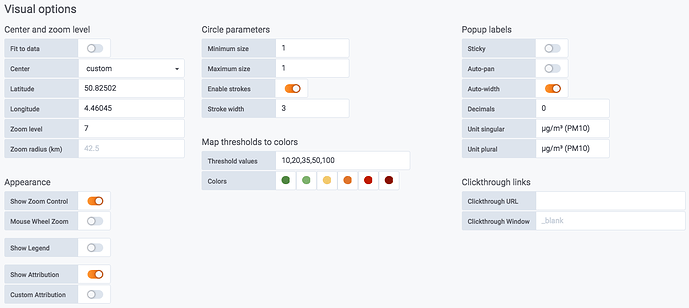 Details
Data format and mapping flavor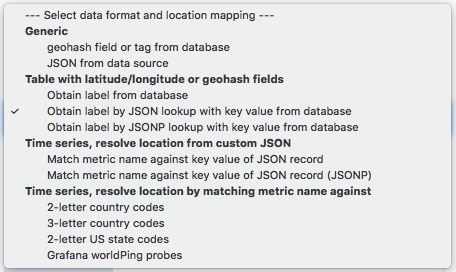 Map viewport defaults (center, zoom level)